In April 2022, Association for Control of Emissions in Products for Floor Installation, Adhesives and Building Materials (GEV) published new GEV classification criteria and an updated GEV testing method.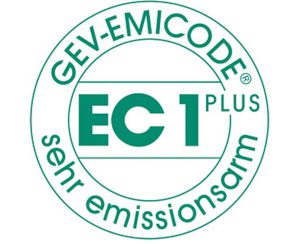 The new requirements for Emission Controlled Products for Wooden Floor Surface Treatments, as well as Lacquers, Finishes and Oils for Mineral Floors and Lacquers for Resilient Floor Coverings and the Award of the EMICODE, the new requirements for Emission Controlled Installation Products, Adhesives and Building Materialsand Award of the EMICODE and the new GEV testing method Determination of Volatile Organic Compounds for Classification in the EMICODE system replace the previous versions April 27th, 2022.
The following products have been newly included in the EMICODE system:
Repair filler and mortar for concrete repair with a max. grain size of 3mm.
Thick-bed mortar with a grain size of 4 mm
Chemical anchors
Mineral or gypsum-based base plasters for interiors
Mineral or dispersion-based finishing and top plasters for interiors
Wall putties for thin-layer and partial applications
There has also been a change for the testing of wall panels. These are now no longer to be tested like laying, decoupling or insulating boards (loading 0.4 m2/m3), but also with a higher loading of 1.0 m2/m3.
Go to GEV test methode as of March 2nd, 2022
Go to classification criteria Products for Floor Surface Treatments as of March 2nd, 2022
Go to classification criteria Installation Materials as of March 2nd, 2022
---
GEV approved test lab
eco-INSTITUT is a approved GEV test laboratory and is authorised to test installation products, joint-tight and insulation products, surface treatment agents for parquet, and solvents according to the EMICODE® criteria. Please contact us! You can also find further information here.